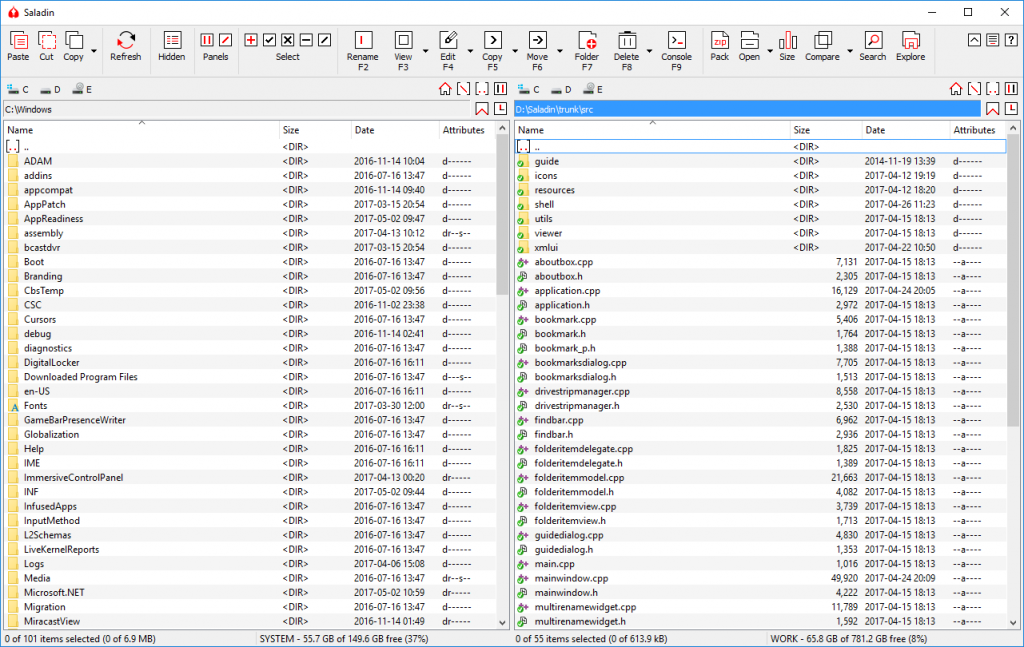 Saladin is an open source dual-pane file manager for Windows which merges the capabilities of Windows Explorer with the well known and easy to use orthodox user interface. Saladin supports both 32-bit and 64-bit versions of Windows.
The idea of writing my own file manager came to my mind in the first half of 2010. I had been using Windows 7 for some time and I couldn't find a free file manager that would suit my needs, work fast and reliably and support 64-bit Windows Shell extensions. As I already had some basic knowledge of the Windows Shell API, I started experimenting and decided that it shouldn't be difficult to create a file manager which would only be a thin front-end for the Shell API, supported by the Qt framework.
I came up with the name Saladin a bit later and it was obviously a pun related to Krusader, which is an excellent dual-pane file manager for Linux. Despite that I was already working on the version 1.0 of WebIssues at that time, I decided to dedicate some time to Saladin and around September 2010 it had enough functionality that I could start using it on a daily basis.
The first version of Saladin which I released in 2011 was quite limited, but I kept adding new functions and releasing new updates once or twice a year until 2014. At that time it became quite popular, but I stopped working on new features as I didn't want it to grow too big and complicated. It started as a very simple but useful tool that just does its job and I wanted to keep it that way.
On the other hand, as I was still using Saladin every day, I had an ever growing list of little things that were missing. Also, when I started using Windows 10, the user interface of Saladin started to look a little bit outdated. Finally in February 2017 I decided to start working on a new version, and my friend, Łukasz Grabowski, committed himself to creating a new, modern set of icons. After a few months of work, in May 2017 version 1.0 was officially released. Although I'm not planning to add any more major features at the moment, I still have a list of small fixes and improvements and I will most likely keep releasing some minor versions in the nearest future.